Michel Durand
Of Counsel, Member of the Québec Bar
LL.B., D. Fisc., TEP
Levy Salis LLP is very pleased to welcome, Michel Durand, Of Counsel, Member of the Québec Bar, LL.B., D. Fisc., TEP.
Michel Durand has more than 25 years of legal and tax experience. For several years, in parallel with his legal practice, where he served a client base composed mainly of small to medium-sized businesses, he worked as an editor for a publishing firm specialized in the popularization of legal, tax and financial literature. For the latter, Michel wrote or revised over 20 books that popularize legal, tax and financial topics, or participated in the writing of such books. Between 2007 and 2020, Michel successively joined the taxation services department of three prominent national and multinational accounting firms and one prominent Montreal law firm. Since March 2021, Michel acts exclusively, through LexTax Inc., a corporation of which he is the president, as Of Counsel to Levy Salis LLP.
Michel practices in estate and tax planning and corporate reorganizations as well as business acquisitions and sales. He is often called upon to provide advice with regards to the tax consequences of complex transactions. He also represents clients before the tax authorities in connection with administrative procedures regarding audits, objections or voluntary disclosures.
The comments offered in this article are meant to be general in nature and are not intended to provide legal advice regarding any individual situation. Before taking any action involving your individual situation, you should seek legal advice to ensure it is appropriate for your circumstances.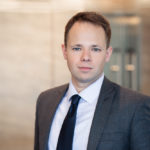 Sergei Titorenko is an Associate at Levy Salis LLP and a member of the Quebec Bar. He devotes his practice to US and Canadian tax and estate planning, Canadians doing business in the United States, Americans living in Canada, US real estate transactions for Canadians, and cryptocurrency transactions.