Mtre Richard P. Salis, B.A., LL.B., D.D.N., was interviewed in a recent episode of Growth Story Podcast hosted by David Inzlicht about his path to becoming a Notary specializing in wills, trust and estate settlement. After starting his legal career as a lawyer, he discovered a passion for helping individuals with their estate planning needs and took up studies to become a notary to better serve his clients. After years of developing a successful legal practice as a notary, he took his practice to the next level when he co-founded Levy Salis LLP, a multi-disciplinary boutique tax and estate planning law firm with his long-time friend and colleague, Mtre Shlomi Steve Levy.
Click below to read the full article from Growth Story or click the radio button to listen to podcast and learn more about Richard P. Salis's story.
Richard's Growth Story Book Title: 

"The value of having grit"
What you'll learn:
Richard is a Quebec Notary specialized in the preparation of wills, powers of attorney, and trusts, the settlement of estates ("successions" under Quebec law), and matters of incapacity. Before becoming a Quebec Notary, Mr. Salis was a member of the Quebec Bar and practiced in the areas of civil litigation, corporate law, real estate law, and the settlement of Quebec estates.
Notable quotes:
"If you're gonna do something, try finding an area of specialty. Distinguish yourself." – As someone told to Richard very early on in his career.
"It's important to ask a lot of questions, not go blindly into certain scenarios." – Richard looking back on his years as a student wishing he had known more about the day-to-day of the law practice.
Show notes:
02:40 – Richard is a partner at Levy Salis LLP a growing legal and notarial firm.
09:35 – Richard grew in up in Côte Saint-Luc in Montreal.
15:55 – Richard decided to do his law degree at Université de Montréal in French after his undergrad at Mcgill.
47:45 – Richard invites you to check out Levy Salis LLP website and reach out to him for a complimentary consultation.
Click below to read the full article of David Inzlicht from Growth Story or click the radio button to learn more about Richard Salis story.
The comments offered in this article are meant to be general in nature and are not intended to provide legal advice regarding any individual situation. Before taking any action involving your individual situation, you should seek legal advice to ensure it is appropriate for your circumstances.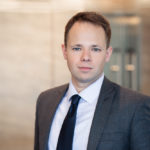 Sergei Titorenko is an Associate at Levy Salis LLP and a member of the Quebec Bar. He devotes his practice to US and Canadian tax and estate planning, Canadians doing business in the United States, Americans living in Canada, US real estate transactions for Canadians, and cryptocurrency transactions.