As a Gold sponsor of the "Une constellation pour ELLES" charity event on March 21st, 2019, which aims to raise funds for the Foundation of the Women's Centre of Montréal, the Levy Salis LLP team attended the event to celebrate and support the Foundation.
The mission of the Women's Centre of Montréal is to provide educational and vocational training, as well as information, counselling and referral services to help women help themselves. This non-profit organization also works to communicate women's concerns to the general public and acts as a catalyst for change regarding women's issues.
The firm is proud to support the integration of women in the workplace and in the education system, notably by donating funds to support the Foundation's programs in furtherance of these goals.
We are immensely grateful for the devotion of Ms. Lorena Biason, Regional Vice-President, Financial Planning, Québec at Royal Bank of Canada (RBC) and of her team to this amazing project.
The comments offered in this article are meant to be general in nature and are not intended to provide legal advice regarding any individual situation. Before taking any action involving your individual situation, you should seek legal advice to ensure it is appropriate for your circumstances.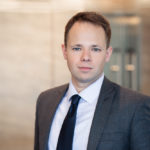 Sergei Titorenko is an Associate at Levy Salis LLP and a member of the Quebec Bar. He devotes his practice to US and Canadian tax and estate planning, Canadians doing business in the United States, Americans living in Canada, US real estate transactions for Canadians, and cryptocurrency transactions.