Catherine Tremblay
Associate, Notary & Legal Counsel & Member of STEP
LL.B., D.D.N., M. Fisc./Tax, TEP
Levy Salis LLP is very pleased to welcome, Catherine Tremblay, Associate, Notary & Legal Counsel & Member of STEP, LL.B., D.D.N., M. Fisc./Tax, TEP.
Catherine has accumulated nearly 23 years of experience in tax law. She has developed a broad expertise in corporate and personal taxation through a wide variety of mandates in corporate and personal tax planning, wills, estates and philanthropic planning, as well as commercial transactions.
In addition to having worked for a prominent Montreal law firm for more than 18 years, Catherine has nearly 5 years of experience in an accounting firm, notably with a national firm where she practiced taxation before joining our team in January 2022.
The comments offered in this article are meant to be general in nature and are not intended to provide legal advice regarding any individual situation. Before taking any action involving your individual situation, you should seek legal advice to ensure it is appropriate for your circumstances.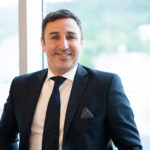 Shlomi Steve Levy is a Partner of Levy Salis LLP and is a member of the Quebec Bar, the Law Society of Ontario (L3), the Society of Trust and Estate Practitioners, and the Canadian Bar Association.