Levy Salis LLP is excited to celebrate our third anniversary.
We are immensely grateful for your trust and continuous support.
We look forward to continuing to provide you with high quality and comprehensive tax and estate planning services, whether you are in Canada or the United States.
Stay tuned for more news.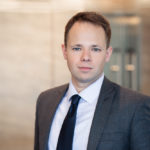 Sergei Titorenko is an Associate at Levy Salis LLP and a member of the Quebec Bar. He devotes his practice to US and Canadian tax and estate planning, Canadians doing business in the United States, Americans living in Canada, US real estate transactions for Canadians, and cryptocurrency transactions.