"We lived, felt dawn, saw sunset glow,
Loved and were loved, and now we lie
In Flanders fields."
— John McCrae
The comments offered in this article are meant to be general in nature and are not intended to provide legal advice regarding any individual situation. Before taking any action involving your individual situation, you should seek legal advice to ensure it is appropriate for your circumstances.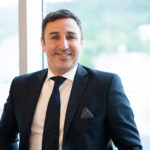 Shlomi Steve Levy is a Partner of Levy Salis LLP and is a member of the Quebec Bar, the Law Society of Ontario (L3), the Society of Trust and Estate Practitioners, and the Canadian Bar Association.