On April 5th, 2019, Shlomi Steve Levy, partner at Levy Salis LLP was a guest speaker and panelist at the Global Entertainment Law + Industry conference as part of their International Tax Planning for Athletes and Entertainers panel.
The annual Entertainment and Sports Law + Industry Conference gives the audience a look into the world of taxation and the tax implications of the international transfer of athletes. Shlomi Steve Levy provided the panel and the audience with his insights on this dynamic and ever-changing field.
The comments offered in this article are meant to be general in nature and are not intended to provide legal advice regarding any individual situation. Before taking any action involving your individual situation, you should seek legal advice to ensure it is appropriate for your circumstances.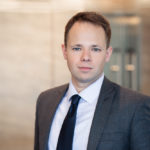 Sergei Titorenko is an Associate at Levy Salis LLP and a member of the Quebec Bar. He devotes his practice to US and Canadian tax and estate planning, Canadians doing business in the United States, Americans living in Canada, US real estate transactions for Canadians, and cryptocurrency transactions.