Preparedness for the Coronavirus (COVID-19)
With COVID-19 now a global pandemic, we would like to extend our thoughts and prayers to everyone. We are reaching out to our clients and friends to summarize actions being taken by Levy Salis. The firm's highest priority is to protect the health of our colleagues, clients, and the people close to them; and maintain the highest level of professional service to our clients and external partners. 
Continuity of Service
Currently, all our offices remain open. Our offices have implemented elements to keep our services available with uninterrupted professional service while minimizing health risks. To maintain an agile workforce and while contributing to the global effort, the majority of our employees are able to work remotely. We utilize high-level security protocols to protect and enable access to our data and systems from anywhere around the world.
Summary
Our professional obligation is to the well-being of our colleagues, clients and external partners. We will continue to update you on our approach as more information becomes available from the World Health Organization, Centers for Disease Control, and local authorities. For more information on how we are prepared to help you, please contact a Partner at our firm.
Thank You,
Team of Levy Salis LLP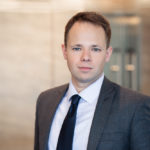 Sergei Titorenko is an Associate at Levy Salis LLP and a member of the Quebec Bar. He devotes his practice to US and Canadian tax and estate planning, Canadians doing business in the United States, Americans living in Canada, US real estate transactions for Canadians, and cryptocurrency transactions.